Gardeners in Stoke have been presented with two awards for their efforts within their community, and for making their garden wildlife friendly.
The Wingfield Road Community Garden is an active project run and set up solely by volunteers living in Plymouth Community Homes (PCH) properties in the area. They have transformed an unused overgrown space into a welcoming area for local people and residents to enjoy.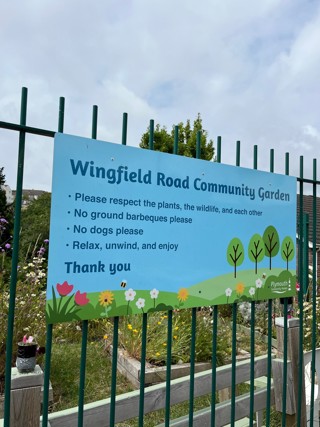 We are delighted to share that the garden came first place in the Stoke in Bloom competition for 'Best Community Garden'.
Stoke in Bloom began in 2022 in an effort to get the residents of Stoke to start growing, to care more about where they live and to engage with the community. The cofounders Kenny Raybould, Aaron Wilding and Karen Pilkington identified that growing plants, fruit and vegetables has several benefits from increasing biodiversity, to improving wellbeing and health. Since its first competition last year, it has grown dramatically across the city.
In July 2023 members of the competition visited Wingfield Road in Stoke to judge their garden, and after a vigorous selection process, the gardeners were presented with the award on Saturday 16 September. They have also been named a wildlife friendly space by the Devon Wildlife Trust, which is a huge achievement.
The garden is run by many members of the local community, including two key individuals and local residents, Andy and Janet, who have lived in the area for a number of years. The pair have been instrumental in making the garden what it is today, both visiting in their spare time, which has helped them to cope with the struggles they face in their lives.
Andy attended the award presentation on Saturday, and was totally surprised to win.
Andy said: "As I sat with my wife Mary in the Community Hall in Stoke, the award for 'Best Community Garden' was announced. Upon hearing about a Community Garden that the Royal Horticultural Society Judges were very impressed with, stating the various community attributes in glowing detail, I genuinely thought ,'what a lovely garden, I wonder where it is?'.
"Although there were some similarities in set up to Wingfield Road Community Garden, I thought that the high praise could not be for us. Then, the words came of, 'the award goes to Wingfield Road Community Garden' and we were so taken a back. Karen said that our faces were a picture. I had to compose myself before going up to receive the award. 
"The verbal and practical support of locals, both PCH and members from the nearby streets, in particular PCH Resident Janet and PCH Communities officer Ryan over the years has led to this outcome.
"Yes, I have devoted, as I am reminded by Members and locals, a lot of time to doing work on the project, but without the joint efforts of the members and friends of the garden it would not be the community garden it is today."
Ryan Huws, Communities Worker at PCH said: "I'm so proud of the gardeners at the Wingfield Road Community Garden. They've all worked so hard, and this season grew so much fruit and veg. The flower beds look amazing too. Well done to everyone involved."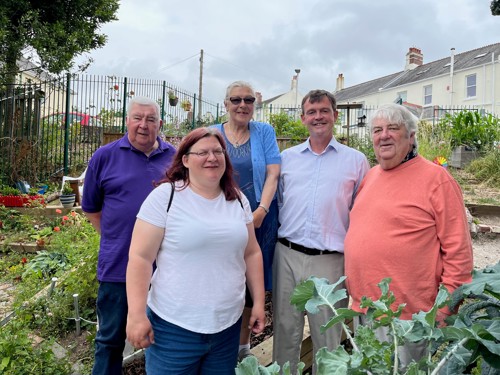 Kenny Raybould, Cofounder of the Stoke in Bloom competition said: "The Stoke in Bloom competition recognises that the way individuals and groups chose to present their gardens or plots is an expression of themselves and their story.
"We base the awarding process on the story and background of the growing, rather than the amount spent on making it look the way it does, or pressure to contribute financially in a great way. Each year we have an overall winner, but everyone is awarded because we recognise that everyone that enters has made the effort, and we want to give them all a boost and recognition in some way.
"The Wingfield Road Community Garden was a space that just really stood out to us. The gardeners were people that had come together and thought about what they were trying to achieve, and were simply doing them, and making it work for their space."