In the heart of Plymouth, a remarkable initiative called Grow, Share, Cook is making a difference in the lives of individuals facing food insecurity and lower incomes.
Through a collaboration between Plymouth Community Homes, Livewell and Tamar Grow Local, this project aims to empower and inspire participants through engaging cookery workshops.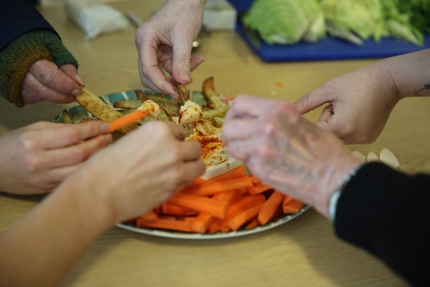 Nicky Wood, Tamar Grow Local
"It's been lovely to be able to offer cookery sessions as part of Grow Share Cook in conjunction with Plymouth Community Homes and Livewell. We have been able to do some budget-friendly cooking and share food ideas in a relaxed friendly environment"
Grow, Share, Cook focuses on providing fortnightly bags of fresh, seasonal fruits and vegetables sourced directly from local growers and community projects in the Tamar Valley and Plymouth. Accompanying each bag is a recipe sheet, encouraging recipients to explore new and exciting meal ideas using the ingredients provided.
Jo Tytherleigh, who was the lead chef for the Beacon Cookery Workshop, said:
"As a local vegetable grower and chef, it was great to be asked by Tamar Grow Local to teach some cooking classes in connection with Plymouth Community Homes. I've enjoyed sharing skills and recipe ideas and meeting people in Plymouth and it's been a great learning experience for all of us."
This initiative not only addresses the immediate need for nutritious food but also provides an opportunity for individuals to enhance their cookery skills. By incorporating locally sourced produce, the project also promotes sustainability and strengthens the bond between participants and their community.
Attendees of the workshop expressed their positive experiences:
"Easy step-to-step session. Really lovely cookery teacher. Easy to follow and we could ask lots of questions if we needed to."
" I can't wait to try this at home. Just need to shop for some herbs and spices"
"Everyone was so friendly and welcoming. The ideas were plentiful - absolutely fantastic!"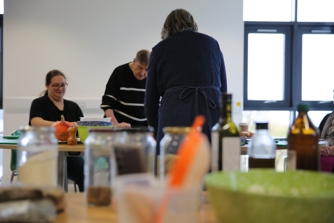 Through this cookery workshop, Plymouth Community Homes and Tamar Grow Local are not only providing nourishment but also nurturing a sense of hope and empowerment. The project serves as a testament to the power of collaboration and the transformative potential of food in improving lives in Plymouth & the Tamar Valley.
Volunteer opportunities are available to help grow food, distribute the bags and encourage active participation in creating positive change. These can be found here.