Plymouth Community Homes (PCH) has teamed up with the Motor Neurone Disease Association (MND Association) for 12 months of charity fundraising in memory of a much-missed and popular staff member, Lisa Goodman.
Staff chose to nominate the association as its Charity of the Year for 2023 with the cause being especially close to their hearts after Lisa, a long-standing member of staff at PCH, sadly passed away from the disease earlier this year.
The charity supports people who are living with motor neurone disease (MND) and those affected by the disease. Support doesn't just extend to sufferers, with a network of help and support available for families, friends and carers.
PCH will be raising money for the volunteer-run Plymouth branch, to ensure that any funds raised can be used to help people in the region.
MND affects up to 5,000 adults in the UK at any one time and there is a 1 in 300 risk of getting MND across a lifetime. With MND, messages from the motor neurones gradually stop reaching the muscles. This leads the muscles to weaken, stiffen and waste, which can affect how you walk, talk, eat, drink and breathe. Some people also get changes to their thinking and behaviour, but the disease affects everyone differently.
The MND Association provides a helpline, equipment loans, financial support grants and a communication aid service, as well as care centres and community services, which PCH's donations will go towards.
Helen Mackie, Regional Fundraiser at the MND Association, visited Plumer House to meet PCH Chief Executive John Clark, as well as members of the Income Recovery & Financial Inclusion team which Lisa worked within.
John Clark said: "We are delighted to select the Motor Neurone Disease Association as our charity of the year for 2023 and hand over a £500 starting donation. It is a pleasure to be able to support the Plymouth group in achieving its three aims to financially help to improve care and support for people with MND, their families and carers in Plymouth.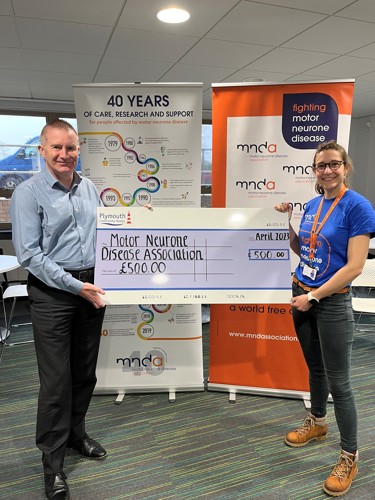 "After losing a beloved staff member to MND earlier this year, we hope to raise vital funds to support other local families who are being impacted by this terrible disease."
Helen Mackie said: "We are so grateful and delighted that Plymouth Community Homes has chosen to support MND Plymouth and help make a difference to all the local families affected by MND in and around the Plymouth area.
"We are truly excited to support all PCH's wonderful fundraising plans as staff generously raise much needed funds and awareness of this cruel disease. Without this incredible fundraising MND Plymouth simply would not be able to provide its vital support and services locally.
"With the help of Plymouth Community Homes, we will be able to continue to provide regular support group meetings, vital 1:1 emotional support, and financial grants to help manage the financial burden of the disease as well as helping fund essential home adaptations and grants to improve quality of life. Together we will make a real difference to local families affected by this devastating disease."
Lisa played a big part in the Income Recovery & Financial Inclusion team at PCH for a number of years and is sadly missed by her colleagues who are keen to raise money for the charity in her memory.
Nicola Kingston, Area Manager for the Income Recovery & Financial Inclusion team, said: "Lisa was part of Plymouth City Council and then PCH for 28 years prior to her medical retirement. Lisa was a real character who was well known and liked by numerous colleagues over the years and was the life & soul of the Incomes team here at PCH.
"There will certainly be no one that can replace her and the fact that the MND Association has been picked as PCH's chosen charity this year means a lot to our team and is a fitting tribute to Lisa."
David Laight, Senior Housing Officer for Income Recovery & Financial Inclusion, added: "Lisa was, and still is, part of the fabric of our team; she always made us laugh and smile with a uniqueness that is irreplaceable."
Throughout the year, PCH will be raising money for the MND Association through a variety of events, sharing updates about the fundraising efforts of staff on the new website www.plymouthcommunityhomes.co.uk and through social media platforms on Facebook, Instagram, Twitter and LinkedIn.
PCH raised over £3000 for Gables Dogs and Cats Home and Woodside Animal Sanctuary in 2022 / 2023, amidst the cost of living crisis which left many facing heart-breaking decisions about their pets. In previous years, PCH has supported several charities including St. Luke's Hospice, Devon and Cornwall Food Action, Age UK, Jerimiah's Journey and many more.