Residents living in Lipstone Crescent can enjoy a brighter outlook after 26 trees were planted outside their properties thanks to a partnership between Plymouth Community Homes and Plymouth and South Devon Community Forest.
In 2021, Plymouth was chosen to become England's 11th Community Forest and so far, the project has seen thousands of new trees planted locally, stretching from the heart of the city to the edge of Dartmoor, encompassing 1,900 hectares of land and helping to establish a range of different forest habitats.
Unlike traditional forests, community forests are spread out across a mix of community woodland, private woodland, on streets, urban woodland, wooded habitat corridors, and hedgerows.
This year, Plymouth and South Devon Community Forest has over 28 schemes happening across the city, with most already completed. Several schemes were delivered at PCH properties last season, including at Lynher House in Devonport.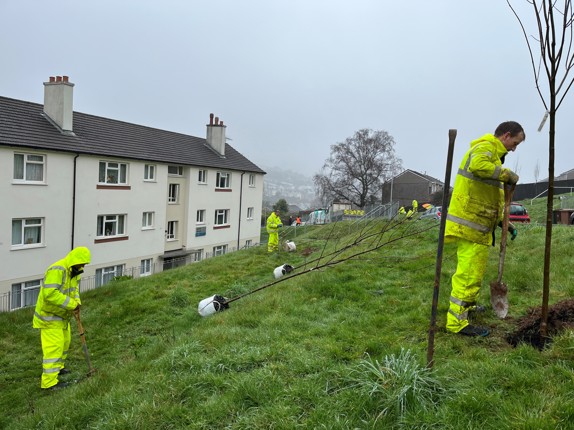 The trees planted at Lipstone Crescent include Acer platanoides, Princetown Gold, Birch Holland, Pyramid Hornbeam and many more.
Joe Berryman, Arboriculturist at Plymouth Community Homes, said: "We considered Lipstone Crescent was a good site for increased tree cover after we noticed the area had a low number of trees in relation to other communities we look after.
"In addition, the green spaces at Lipstone Crescent have a good variety of sizes and gradients so we were able to make use of modern botanical practices, and involve trees that can tolerate the harsher conditions found in a city environment.
"This includes trees which grow mainly upwards rather than outwards, and trees that can withstand extreme temperatures and longer dry spells.
"As a result, the trees should be more resilient, not block light to the buildings, and not need to be replaced as regularly, helping us to reduce the local impact of climate change."    
Mark Bailey, Housing Officer at Plymouth Community Homes, said: "The trees have made a positive visual impact to the green space at Lipstone Crescent and we have received comments from residents who are delighted with the new additions.
 "I believe our collaboration with the Plymouth and South Devon Community Forest will continue to benefit our residents greatly, and our planning and delivery of the next schemes within this project will be vital for our city."
Stephen Hill, Natural Infrastructure Officer at Plymouth City Council, said: "It's been another rewarding season for the Plymouth and South Devon Community Forest, over 6,000 trees have been planted across the city this winter and we think it's safe to say Plymouth is a much greener place because of the hard work demonstrated by everyone involved.
"Working in collaboration with Plymouth Community Homes, Always Apples, and local residents, a new orchard, edible hedgerow and tree planting took place in Lipstone Crescent as well as Lyhner House, breathing life back into spaces for both people and wildlife to enjoy.
"We are already excited for next year's tree planting, so spades at the ready and follow Nature Plymouth on Facebook for updates!"