A bespoke metal replica of Smeaton's Tower has been situated outside Morley Court in Plymouth's city centre. The prominent position of the tower will be seen by thousands of Plymothians on their commute in and out of the city centre.
The lighthouse was created and donated to residents by ARC Metalcraft, which wanted to give something back to the community after carrying out work in the area on behalf of Plymouth Community Homes. ARC Metalcraft also donated a commemorative planter based upon the Mayflower ship to a PCH community at Notte Street on the Barbican to celebrate the Mayflower 400.
Halwell Projects, MG Scaffolders and L&J Electrical Services also contributed to the project by donating time, work and materials. The artwork around the planter was designed and painted by John Lily and the flowers were installed by Primrose Landscape Architects.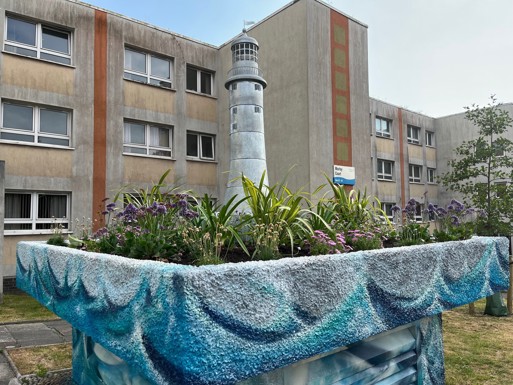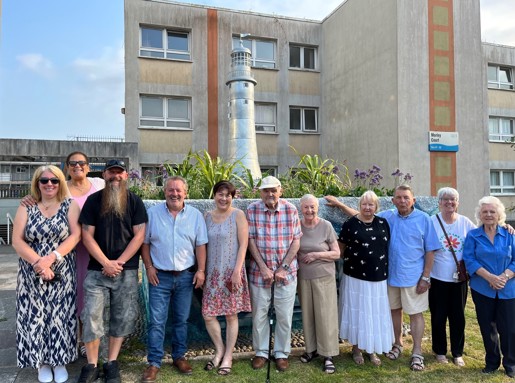 Residents of Morley Court who live on the side of Western Approach were consulted about the project and helped with the design process. Many liked the idea of creating a replica of Smeaton's Tower which they thought represented Plymouth so well. They also suggested painting blue waves around the replica to represent the waves of the sea.
On Tuesday evening, residents, PCH housing officers and those who worked on the project were invited to the roof garden at Morley Court to celebrate the installation of the lighthouse.
Residents are delighted with the new feature outside their homes and agreed it will make people stop and look as they pass by every day.
Sue Mackay, resident at Morley Court, said: "It is amazing, and it has been placed on top of the vent that wasn't very attractive, but it is looking great. I am going to volunteer to help and try to look after it where I can.
"I have been at Morley Court for five years now, and this flat has saved my life so in my new lease of life I want to help everyone and everything and if I can help by looking after the new lighthouse then I will."
Sarah Chidgey, PCH Housing Officer, said: "The idea started when I mentioned I'm really interested in street art, and how it makes people feel about where they live.
"I thought how nice it would be for a piece of bespoke artwork to be created for this community, and had some really nice conversations with residents, with some telling me about their time in the Navy, and what the sea and Plymouth meant to them."