Residents living in Stoke have created their very own community garden, transforming an unused overgrown space into a welcoming area for local people and their families to enjoy.
Now that summer is in full swing, flowers are in bloom and fruits and vegetables are thriving, the Plymouth Community Homes residents living locally are taking advantage of the drier and warmer weather to spend more time in the space.
The community garden, located in Wingfield Road, is a very active project run solely by volunteers. There are many visitors to the garden who contribute both physically and financially, and enjoy spending time there.
It is run by many members of the local community, including two key individuals and local residents, Andy and Janet, who have lived in the area for a number of years. The pair have been instrumental in making the garden what it is today, both visiting in their spare time, which has helped them to cope with the struggles they face in their lives.
Janet has sadly experienced tragedy in her life, and is currently living with a terminal cancer diagnosis. Being a part of the Wingfield Road Community Garden has brought her joy, and it helps her to remember her late sons, one of which who visited the garden before his passing.
Janet said: "I have lived in a block at Wingfield Road for over 40 years and I have been involved with the community garden project since it started.
"My son who I sadly lost last year helped to set up the Wingfield Road Community Garden Facebook page and visited the garden when he was able to, so he's always on my mind when we are here.
"Coming to the garden helps me to distract my thoughts, and I really enjoy coming down to the space, growing a selection of fruit and vegetables, as well as seeing the growth of the beautiful flowers."
Andy also benefits hugely from working at the garden, and feels proud and humble to be a part of the local community.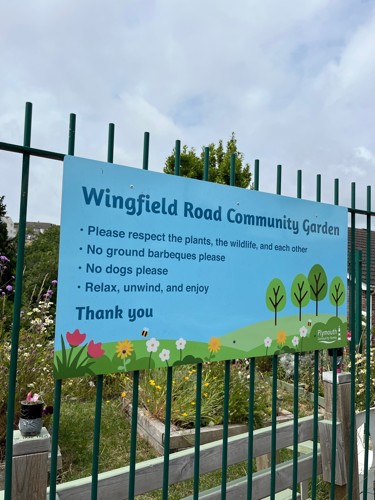 Andy said: "I moved to Wingfield Road about three years ago, and we are lucky to have a nice balcony but sadly no garden, despite the masses of greenspace outside the flats.
"I have always been interested in nature conservation, so getting involved with the project has been exciting for me.
"The land was left empty for a long period of time, with long and overgrown grass and I was determined to make this space into something for the community.
"After making enquiries with my Housing Officer and Ryan Huws, a Communities Worker at PCH, our proposal to turn this space into a community garden was accepted.
"The garden is now filled with raised beds, a shed and so much more, and the funding from local ward councillors was helpful in allowing the garden to come to life in a different way.
"After our first meeting and a letter drop from PCH, key individuals got involved, coming along to the open day which was wonderful for the community. We have since gained support from locals passing by who gradually started to show interest in project and now, we have a group of regular members, as well as the opportunity for new members to pop along when the gates are open.
"The community garden has really helped my mental health as spending time there is extremely therapeutic, as well as being good for my self-esteem.
"I take great pride in the project, and I love seeing it taking off. It is great that PCH residents and the local community are enjoying it, as it helps people physically as well as mentally.
"A community project can't work without community, and this is why it is so important."
Ryan Huws, Communities Worker at PCH, said: "Following a request for help with gardening from local residents, the Wingfield Road Community Garden started in 2019. Since its creation, we have built and allocated raised beds so members can grow what they like.
"We have a mixture of veg, fruit and flowers. We also make the garden environmentally friendly and feed the birds. This year, we felt confident enough to enter the Stoke in Bloom Competition. We all now have our fingers crossed until the results come through!"
Michelle (pictured) became a member of the Wingfield Road Community Garden earlier this year, and was keen to start planting things, including carrots. Upon joining she was met with useful tips to help her carrots thrive, which she found really useful.
Members of the Janner Men's Shed also paid a visit to the garden and offered to make different wooden features for the members to enjoy.
The garden has recently received a delivery of top-soil and bark-chips from Travis Perkins which was donated as part of the social value committed by PCH contractors. The donation has benefitted the garden greatly, and the garden team were able to create safe paths with the bark-chips, and top up the raised beds with the soil.
Adam Snell, Branch Manager at Travis Perkins Plymouth, said: "Travis Perkins Plymouth is proud to be able to support the local community through social value projects."